The Alliance
The Registry, Book 3
Fiction
William Morrow Paperbacks
2014-09-02
448

In this deadly endgame, the final move is hers . . . In America, the Registry weds girls to the highest bidder and raises boys for its army. Mia Morrissey escaped to make her life her own, and now that she has, she will risk everything so that everyone can be free. Going undercover as part of a diplomatic mission, Mia returns to America. But life there is more dangerous than ever as the walls grow taller, and the forgotten country faces its most ruthless leader yet, Grant Marsden . . . a shadow from Mia's past. With the help of Andrew, Carter, and other members of the subversive group Affinity, she embarks on a perilous journey to defeat Grant, bring down the government, and destroy the Registry once and for all. But when a terrible betrayal exposes the operation, Mia discovers that her enemies have used her—and so have her friends. Alone and frightened, she's uncertain of whom to trust—or whether the mission is worth the sacrifice. With the fate of her friends and the future of her country on the line, Mia knows that her next step may be the last for her . . . and America.
Review:
I admit that I was a little reticent to continue "The Registry" series, by Shannon Stoker, but the premise was promising enough to get me to give "The Alliance" a try, and I'm glad a did.
While the writing still lacks some polish and over-use of certain words (said being an example), the author showed a great deal of growth in how she handles character interaction and personal thoughts.  The backstories sprinkled throughout made the characters feel less like caricatures and more like humans.  I genuinely began to care about most of them, even the less than likable ones from the previous "Registry" novels.
I loved the beginning of each chapter including the history of how the society came to be using accounts from diaries of the period.  It provided answers to questions that had been nagging me from the beginning, and the explanations made perfect sense in the context of the story.  The ending was also plausible and satisfying.
I'm very impressed with Stoker's growth and look forward to seeing what else she publishes.
Content Warning:
Language, Violence, Sexual Situations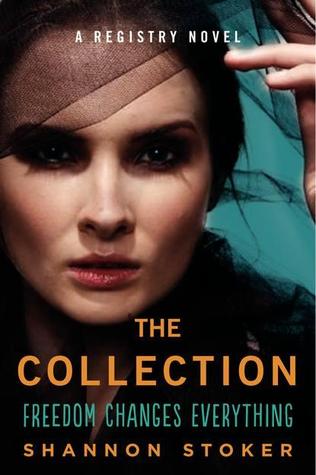 The Collection: A Registry Novel
The Registry, Book 2
Young Adult Fiction
William Morrow Paperbacks
Paperback
368

How far would you go to control your own destiny?
Mia Morrissey has escaped: from America, from the Registry, from the role she was raised to play—a perfect bride auctioned to the highest bidder. She's enemy number one to the world's largest power, and there's no turning back now.
Review:
"The Collection" picks up immediately from where "The Registry" ended, with Mia in the company of Riley and Andrew and Carter being held captive.  Riley is my favorite character in the series up to this point, and I hope we get to see more.
My feelings on "The Collection" are very mixed.  The plot is very imaginative, and it brings up many talking points, including women's rights, war, etc.  It is clean enough for middle readers without being too juvenile for the older young adult crowd.  Those points alone are worth the given three stars.
Unfortunately, character development is sparse, and the writing contains way too many "he said, she said, they saids".  I feel like if "said" were to be removed entirely, being replaced with more descriptive words, it would have been a much more pleasant read.  It would have been wonderful to know more about the internal conflicts faced by each character.  Instead, it is left somewhat dry and unexplored.
All said, I am still going to give the third installment of the series a read, because the plot has me hooked enough to want to know how it ends.
Content Warning:
Violence, Sexual Situations, Unwilling Drug Use
The Registry
The Registry, Book 1
Fiction
William Morrow Paperbacks
2013-06-11
336

Welcome to a safe and secure new world, where beauty is bought and sold, and freedom is the ultimate crime The Registry saved the country from collapse, but stability has come at a price. In this patriotic new America, girls are raised to be brides, sold at auction to the highest bidder. Boys are raised to be soldiers, trained to fight and never question orders. Nearly eighteen, beautiful Mia Morrissey excitedly awaits the beginning of her auction year. But a warning from her married older sister raises dangerous questions. Now, instead of going up on the block, Mia is going to escape to Mexico—and the promise of freedom. All Mia wants is to control her own destiny—a brave and daring choice that will transform her into an enemy of the state, pursued by powerful government agents, ruthless bounty hunters, and a cunning man determined to own her . . . a man who will stop at nothing to get her back.
Review:
I am being somewhat generous with the three stars, but do hold out some hope for the series.  The idea is a good one, with there being handbooks and guides to marriage and military service that are controlled by the government.  Women are bought, and while men ultimately end up in control, as boys they are all but abandoned due to not having a monetary value to their fathers.
The world is interesting, but there is a problem with how it is presented.  The problem being that we have very little explanation about why it came to be that way.  There is something offered, but it doesn't explain anything, even though I believe the author meant it to.  It made what could have been a straightforward plot a bit of a mess and distracts from some issues raised that are more than worthy of in-depth exploration.
The writing is stilted, but that may be on purpose, as Mia has been protected her entire life from most knowledge and education.  It's difficult to tell at this point in the series.  There are also quite a few typos that can easily be fixed and can be frustrating to see.
I'm not certain whether or not to continue on with the series, as I have been burned in the past by novels with promising plots but technical problems.
Content Warning:
Violence