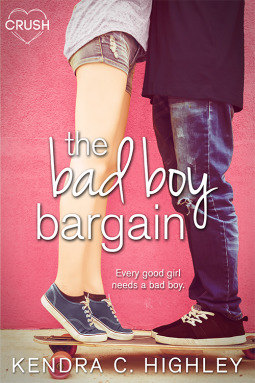 The Bad Boy Bargain
Entangled Publishing
November 14, 2016
Paperback

Baseball player Kyle Sawyer has many labels: bad boy, delinquent, ladies' man, fearless outfielder... Only one of them is actually true. But then sweet ballet dancer Faith Gladwell asks him to help wreck her reputation, and everything goes sideways.
Faith knows a thing or two about love, and what she had with her cheating jerk of an ex wasn't it. When he starts spreading rumors about her being an Ice Queen, Faith decides it's time to let a little bad into her life.
Lucky for her, Kyle Sawyer--dark, dangerous, totally swoonworthy Kyle Sawyer--is landscaping her backyard over Spring Break. Shirtless. And if she can convince him to play along, " dating" Kyle will silence the rumors.
But Faith's plan threatens to expose Sawyer's biggest secret of all...and that's a risk he's not willing to take.
Review:
"The Bad Boy Bargain" is a cute and easy read.  It can be read in a sitting or two and won't require a lot of effort on the part of the reader.  I wish there were half stars, because I could give it a 3 1/2, but not a four.  Good choice for those who enjoy light and fluffy romances.
This unbiased review is based upon a complimentary copy provided by the publisher.
Content Warning:
Language, Sexual Situations, Some Brief Violence, Bullying