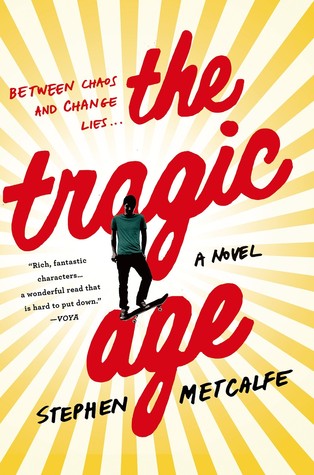 The Tragic Age
St. Martin's Griffin
March 3, 2015
Hardcover
320

This is the story of Billy Kinsey, heir to a lottery fortune, part genius, part philosopher and social critic, full time insomniac and closeted rock drummer. Billy has decided that the best way to deal with an absurd world is to stay away from it. Do not volunteer. Do not join in. Billy will be the first to tell you it doesn't always work-- not when your twin sister, Dorie, has died, not when your unhappy parents are at war with one another, not when frazzled soccer moms in two ton SUVs are more dangerous than atom bombs, and not when your guidance counselor keeps asking why you haven't applied to college.?
Billy's life changes when two people enter his life. Twom Twomey is a charismatic renegade who believes that truly living means going a little outlaw. Twom and Billy become one another's mutual benefactor and friend. At the same time, Billy is reintroduced to Gretchen Quinn, an old and adored friend of Dorie's. It is Gretchen who suggests to Billy that the world can be transformed by creative acts of the soul.?
Review:
"The Tragic Age" is the type of novel I adore, but yet find extremely difficult to find one that is well-written.  It is, above all else, an excellent study in existentialism for the current high school generation, not to mention the rest of us.
Billy is a narrator with an excellent voice.  His observations are disturbing, disturbed, witty, intelligent, and downright funny.  Funny, that is, until you actually think about them too hard.  Then they become disturbing and/or disturbed.  The author managed to make him both a very self-aware narrator and a very unreliable narrator.  That is a true mark of talent.
Nothing about the plot is predictable, yet at the end the conclusion seems inevitable.  It is definitely a novel that needs a second read to fully appreciate all that it has to offer.  I can honestly say it will be something I analyze for quite some time.
Also, I died a little bit inside when the epitome of old was revealed to be forty.
Recommended for the older young adult crowd and those who like existentialist literature.   "The Tragic Age" is not for younger readers, as it is dark and adult in nature,
This review is based upon a complimentary copy provided by the publisher in exchange for an honest review.
Content Warning:
Strong Sexual Content, Strong Language, Violence, Underage Drinking, Bullying