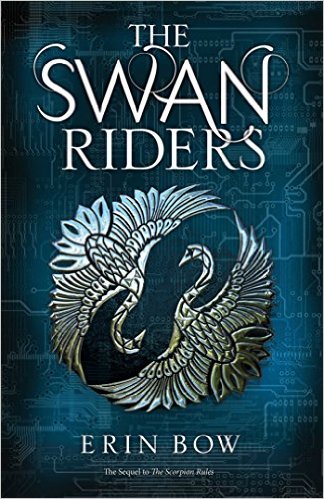 The Swan Riders
Prisoners of Peace, Book 2
Margaret K. McElderry Books
September 20, 2016
Hardcover
384

Treacherous twists await Greta as the stakes get even higher in this stunning follow-up to the "masterful" (School Library Journal, starred review) novel, The Scorpion Rules.
Greta Stuart has become AI. New transmitters have silvered her fingerprints. New receptors have transformed her vision. And the whole of her memory has become one book in a vast library of instant knowledge. Greta is ready to rule the world.
But the new technology is also killing her.
Greta is only sixteen years old, but her new enhancements are burning through her mortal body at an alarming rate. Of course the leader of the AIs, an ancient and compelling artificial intelligence named Talis, has a plan. Greta can simply do what he's done when the time comes, and take over the body of one of the Swan Riders, the utterly loyal humans who serve the AIs as part army, part cult.
First though, Greta will have to find a way to stay sane inside her new self. Talis's plan for that involves a road trip. Escorted by Swan Riders, Greta and Talis set out on a horseback journey across the strange and not-quite-deserted landscape of Saskatchewan. But there are other people interested in Greta, people who want to change the world…and the Swan Riders might not be as loyal as they appear…
Review:
I'm not even sure where to begin with "The Swan Riders" aside from saying that Erin Bow somehow managed to outdo "The Scorpion Rules."
I don't want to write much because almost everything in the book is unexpected. It's excellent.  Great character development; non-stop plot.  There is also a very healthy dose of existentialism, which is always a plus to me.  A bonus was that it had some parts that scared nightmares into me. In something that very rarely occurs, the story could stop with this book or keep going, and either would be perfect.  I'm hoping for the latter, of course.
I recommend "The Swan Riders" to anyone who enjoyed "The Scorpion Rules."  If you haven't read either, please pick up the series if you're a fan of intelligent dystopias and very diverse books.
This honest review is based upon a complimentary copy provided by the publisher.
Content Warning:
Language, Non-Explicit Sexual Situations, Violence, Horrifying Imagery