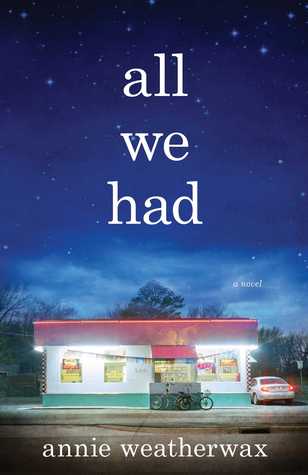 All We Had: A Novel
Adult Fiction
Scribner
August 5, 2014
Hardcover
272

For thirteen-year-old Ruthie Carmichael and her mother, Rita, life has never been stable. The only sure thing is their love for each other. Though Rita works more than one job, the pair teeters on the edge of poverty. When their landlord kicks them out, Rita resorts to her movie-star looks and produces carpet-installer Phil, "an instant boyfriend," who takes them in.
Before long, Ruthie convinces her mother to leave and in their battered Ford Escort, they head East in search of a better life. When money runs out and their car breaks down, they find themselves stranded in a small town called Fat River where their luck finally takes a turn. Rita lands a steady job waitressing at Tiny's, the local diner. With enough money to pay their bills, they rent a house and Fat River becomes the first place they call home.
Review:
I received this book for free from Scribner through the Goodreads First Reads program in exchange for an honest review.
"Every character is a protagonist in their own story" is a quote I once heard (apologies, but for the life of me I can't find the person who actually said it), and on my own attempts at writing, I have always tried to keep it in mind.
"All We Had" is hands-down the greatest example of this concept in action I have ever read.  The heart of the story is Ruthie and her young mother, but every single character has a deep and rich history that is revealed through remarkably little prose.  I found myself wondering what happened to them all after the last page, and I imagine I will do so for quite some time.
This book is a slice-of-life story that is a very easy read about subject matter that is not easy to read about.  Ruthie shares it all with stark realism, zero nostalgia, and brutal honesty.  There are no feelings of self-pity or self-congratulation.  It is what it is, and that is how the story is told.  As such, it feels raw and honest, ultimately leaving an uneasy feeling in the readers about all of the Ruthies that live within our world.
I don't want to spoil anything, because in this case the journey is the story, so even a summary feels as though it would give away too much.  I can say that it's on the list of books I will be giving all of the readers in my life this holiday season.  Annie Weatherwax is a wonderful storyteller, and I look forward to many more novels from her.
Five stars.  I wish I could give more.
Content Warning:
"All We Had" is not actually a young adult book, but I feel like it is an excellent choice for more advanced and mature readers.  There is strong language, violence, sexual situations, rape, and animal death, but none of it is gratuitous or presented too graphically.  In my opinion, the contemporary social issues raised are important and present many good talking points.