Broken Glass
The Mirror Sisters, Book 2
Fiction
Simon and Schuster
February 28, 2017
448

Sisters until the end...
Which may come sooner than they think.
Under their mother's watchful eye, identical twins Haylee and Kaylee Fitzgerald have lived their entire lives in sync. Never alone, never apart, everything about them must be exactly the same: clothes, friends, punishments.
One night, in the darkness of a movie theater, Haylee reveals that she's leaving to meet up with someone she knows from online. But suddenly feeling ill, and not wanting to disappoint this older man, she convinces Kaylee to go in her stead. He'll never know, and this way he won't think she stood him up.
Kaylee reluctantly agrees to go, but when the credits roll and she's nowhere to be found, Haylee confesses everything to her mom. With the manhunt on, Haylee knows everything must be done to find her sister. Still, for the first time in her life, she's free from her twin, which, really, isn't so bad...is it?
Review:
What can I say about "Broken Glass?"  I feel like this can sum it up for all fans of V.C. Andrews books: It is exactly what you want and expect to find in one of them, meaning creepy and a guilty pleasure. It's a fun story that continues the story of Haylee and Kaylee, two of the world's creepiest twins.  A perfect beach read.
This unbiased review is based upon a complimentary copy provided by the publisher.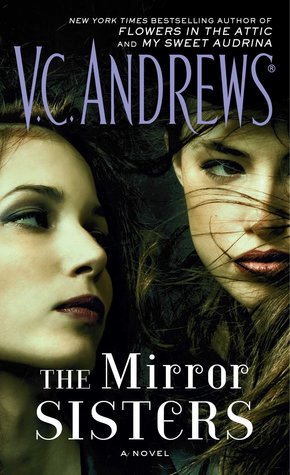 The Mirror Sisters
Pocket Books
October 25, 2016
Paperback
384

From the legendary New York Times bestselling author of The Flowers in the Attic and My Sweet Audrina series comes the first book in a new series featuring identical twin sisters made to act, look, and feel truly identical by their perfectionist mother.
Alike in every way...with one dark exception.
As identical twins, their mother insists that everything about them be identical: their clothes, their toys, their friends...the number of letters in their names, Haylee Blossom Fitzgerald and Kaylee Blossom Fitzgerald. If one gets a hug, the other must, too. If one gets punished, the other must be, too.
Homeschooled at an early age, when the girls attend a real high school they find little ways to highlight the differences between them. But when Haylee runs headfirst into the dating scene, both sisters are thrust into a world their mother never prepared them for—causing one twin to pursue the ultimate independence. The one difference between the two girls may spell the difference between life...and a fate worse than death.
Written with the taboo-breaking, gothic atmosphere that V.C. Andrews is loved for, The Mirror Sisters is the latest in her long line of spellbinding novels about mysterious families and tormented love.
Review:
"The Mirror Sisters" is the beginning of a new series in the long line of V.C. Andrews novels.
Haylee and Kaylee are what you expect from V.C. Andrews characters: wealthy, beautiful, really really screwed up mother.  In other words, everything those of us who have read the novels since "Flowers in the Attic" have come to know and love.  The plot premise also follows in the creepy family vibe with a mother who takes the word "identical" way too literally when it comes to her girls.
Unfortunately, almost the entire book felt like it was building up to something way bigger than the climax.  It was a letdown.  That being said, I will still read the next in the series and hope that it lives up to its promise.
"The Mirror Sisters" is recommended for anyone who enjoys V.C. Andrews books.
This unbiased review is based upon a complimentary copy provided by the publisher.
Content Warning:
No content warning as I still view V.C. Andrews novels as adult books.  Still, it's a V.C. Andrews book.  I'm sure you can figure out the content.