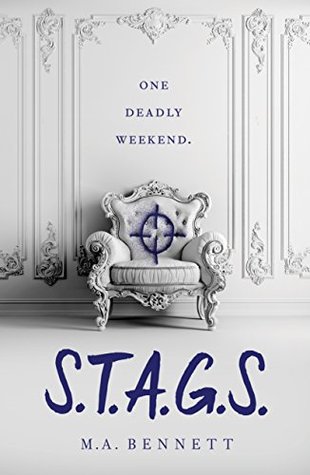 S.T.A.G.S.
Delacorte Press
January 30, 2018
Hardcover
304

Greer MacDonald has just started as a scholarship student at the exclusive St. Aidan the Great boarding school, known to its privileged pupils as STAGS. STAGS is a place where new things--and new people--are to be avoided. And in her first days there, Greer is ignored at best and mocked at worst by the school's most admired circle of friends, the Medievals.
So, naturally, Greer is taken by surprise when the Medievals send her an invitation to a sought-after weekend retreat at the private family estate of their unofficial leader, Henry de Warlencourt. It's billed as a weekend of "huntin' shootin' fishin'."
As the weekend begins to take shape, it becomes apparent that beyond the luxurious trappings, predators are lurking, and they're out for blood.
OPTIONED FOR FILM BY FOX 2000 AND CHERNIN ENTERTAINMENT--WITH HUNGER GAMES CO-WRITER TO ADAPT!
Review:
It took me about a third of the book to get into the story, but once I did, I found it to be quite a good thriller and a clever commentary on current events.  It's best read on a rainy night, which is what I did.  Be prepared for some strange nightmares!  I wish I could say more but anything other than what's already in the blurb would be a spoiler.
This unbiased review is based upon a complimentary copy provided by the publisher.
Content Warning:
Language, Minor Sexual Situations, Violence, Animal Deaths