One Was Lost
Young Adult Fiction
Sourcebooks Fire
October 1, 2016
352

Sera must find the truth—before a killer finds her. Murder, justice, revenge... So not a part of the plan when Sera set out on her senior trip. She figured a hike through the woods would be safe, uneventful. Damaged. Deceptive. Dangerous. Darling. These are the words scrawled on their wrists when they wake up in the middle of nowhere. Their supplies are destroyed. Half the group is gone. And they find four dolls acting out a murder—dolls dressed just like them. Suddenly it's clear; they're being hunted. And with the only nice word on her wrist, Sera falls under suspicion.
Review:
"One Was Lost" is a good book for those looking for a fast, creepy read.
The story begins immediately, without much explanation as to the backstory of the characters or the situation they're in.  All of that is explained over the course of the book.  I would describe the plot as one of the current PG-13 horror movies out there.  It isn't something complex, but it delivers on the chills and jumps.  The cover pretty much sums up the mood.
I recommend "One Was Lost" for those looking for a fun and fast read that may leave them afraid to turn off the lights.
This unbiased review is based upon a complimentary copy provided by the publisher.
Content Warning:
Language, Violence, Sexual Situations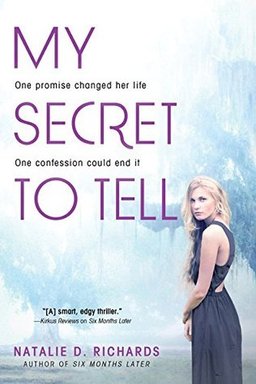 My Secret to Tell
Sourcebooks Fire
October 6, 2015
Paperback
320

His smile is a crime.
Emerson May is "the good girl." She's the perfect daughter, the caring friend, the animal shelter volunteer. But when her best friend's brother breaks into her room, his hands covered in blood, she doesn't scream or call the cops. Because when Deacon smiles at her, Emmie doesn't want to be good...
The whole town believes notorious troublemaker Deacon is guilty of assaulting his father. Only Emmie knows a secret that could set him free. But if she follows her heart, she could be trusting a killer...
You can't always trust the boy next door.
Review:
"My Secret to Tell" is a combination of mystery and "bad boy" romance which is blissfully free of love triangles.
The characters of Emmie and Deacon were a lot of fun to read.  Their banter felt natural and not at all forced.  They also did not suffer from instalove, and I appreciate that fact quite a bit.  Emmie faces many of the problems that most young adults face, including parental expectations versus personal wants.  Deacon has quite a few problems, but many of the problems have a good cause.  What I particularly liked was that none of the problems, good reason or not, are actually excused as appropriate behavior.  That includes from Emmie.  How often does unblinded love happen in a young adult romance?  Not enough.
The plot was fun, though I did figure out a good bit of the twist before it was revealed at the end.  That's the reason I gave it four stars instead of five.  It's a quick read.  While not completely light, it also isn't too heavy, so it's a nice book to take on a vacation or read during downtime.  I'd also like to mention that the descriptions of the North Carolina coast are beautiful and completely accurate.  If you have a love of the area, you will enjoy it for that alone.
I recommend "My Secret to Tell" for young adults and adults alike who are looking for an enjoyable read.
This review is based upon a complimentary copy provided by the publisher in exchange for an honest review.
Content Warning:
Language, Sexual Situations, Violence, Mentions of Drug Use