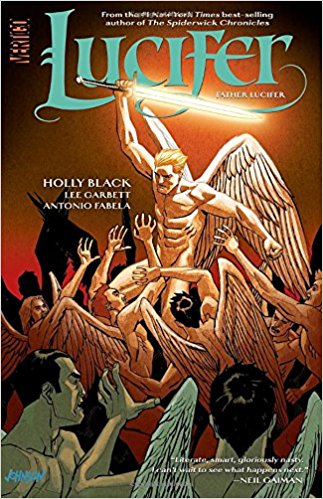 Lucifer Vol. 2: Father Lucifer
Lucifer Comics
Vertigo
March 7, 2017
144

The antihero who made his debut in THE SANDMAN and starred in his own hit series continues his comeback in the second volume of this new series by best-selling writer Holly Black ("The Spiderwick Chronicles")! God is dead--and Gabriel has accused Lucifer of His murder. Lucifer had motive and opportunity, but claims he can prove his innocence. If Gabriel finds the killer and takes the culprit into custody, Lucifer's sins will be forgotten, and he'll be welcomed back to the Silver City. So, despite the fact that Lucifer just opened a new nightclub on Earth and is hiding a mysterious wound, the two brothers set off to solve their Father's murder. Their investigation will span Heaven, Hell, Earth, and beyond in this antagonistic buddy-cop noir with an angelic flare. This daring new graphic novel reintroduces the former King of Hell to a new generation of readers watching Fox's new 2016 series "Lucifer"! Collects issues #7-10.
Review:
"Lucifer Vol. 2: Father Lucifer" has beautiful artwork and a main story with potential, but it strays in way too many directions to be cohesive.  I'm hoping that the next volume stays with a single storyline.  Word of caution:  If you're coming to this comic because of the television show, it is almost completely different.  In my opinion, the show is better.  Your mileage may vary.
This unbiased review is based upon a complimentary copy provided by the publisher.