Yak and Dove
Juvenile Fiction
Tundra Books (NY)
September 19, 2017
56

Sometimes the unlikeliest friends form the greatest friendships. A funny, charming picture book from a dynamic duo.
Friends Yak and Dove are complete opposites. Yak is large and Dove is small. Yak has fur and Dove has feathers. Yak is polite. Dove is ill-mannered. Yak likes quiet. Dove likes noise. One day as Yak and Dove list their differences they come to the conclusion that maybe they aren't meant to be friends. In the hope of finding a new best friend, Yak holds auditions. But when a small feathered contestant sings Yak's favorite song, the two begin to think that maybe they are alike after all . . .
Yak and Dove whimsically captures the highs and lows of friendship through the three interconnected tales of two very different friends.
Review:
"Yak and Dove" may be my new favorite children's book ever.  The story of friendship, both the ups and downs, is beautiful.  The artwork is stunning.  It's the type of work that I want to hang all over the house.  This is sure to be a classic and I encourage anyone with children in their lives (or without) to pick up a copy.  I'll be picking up several.
Five (hundred) enthusiastic stars!
This unbiased review is based upon a complimentary copy provided by the publisher.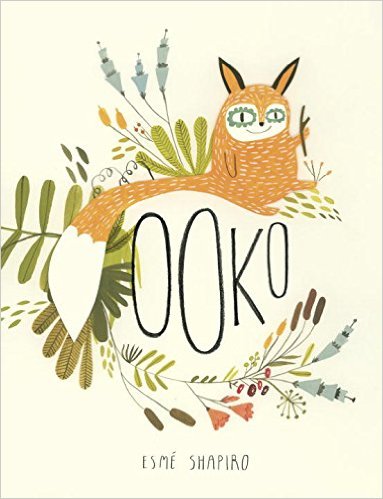 Ooko
Penguin Random House Canada
July 5, 2016
Hardcover
40

Ooko has everything a fox could want: a stick, a leaf and a rock. Well, almost everything . . . Ooko wants someone to play with too! The foxes in town always seem to be playing with their two-legged friends, the Debbies. Maybe if he tries to look like the other foxes, one of the Debbies will play with him too. But when Ooko finally finds his very own Debbie, things don't turn out quite as he had expected!
A quirky, funny, charmingly illustrated story about finding friendship and being true to yourself.
Review:
"Ooko" is an adorable picture book about a fox learning the beauty of just being yourself.  The simple wording and quirky illustrations will keep children both young and old entertained.  I found myself laughing out loud at Ooko's sense of humor and little bit of sass.  Highly recommended!
This review is based upon a complimentary copy provided by the publisher in exchange for an honest review.