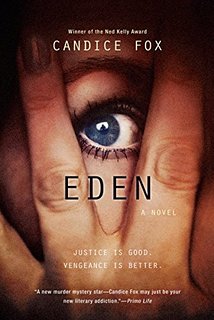 Eden
Archer and Bennett, Book 2
Kensington
August 25, 2015
Paperback
320

"A new murder mystery star—Candice Fox may just be your new literary addiction."—Primo Life
"I fool myself that Eden has a heart—that she would at least have trouble killing me..."
Most homicide detective teams run on trust, loyalty, and the shared desire to put killers behind bars. Frank Bennett's partner, Eden Archer, thrives on darkness and danger. She has a rare talent for catching killers - but her idea of justice has little to do with courtrooms.
Now three girls are missing, and Eden is going undercover to a remote farm where the troubled go to hide and blood falls more often than rain. Frank's job is to keep an eye on his partner while she's there - but is it for Eden's protection, or to protect others from her? Walking a tightrope between duty and desperation, Frank confronts a threat from Eden's past—the sadistic crime lord Hades, who raised her. Suddenly, the hunter is the hunted. And a killer's vicious desires are about to be unleashed . . .
The breathtaking new thriller from the author of Hades, winner of the Ned Kelly Award for Best Debut Crime Novel, establishes Candice Fox as a suspense writer of international renown and undisputed power.
Review:
I was beyond thrilled when I saw there would be another novel in the Archer and Bennett series after reading the excellent debut, "Hades".  "Eden" did not disappoint.   Candice Fox is at the top of the class when it comes to gritty crime thrillers.  And when I say gritty, I do mean gritty.  This is far from a cozy mystery.
As I had hoped, we get more backstory for Eden's father, Hades, and it is so well-written that the flashbacks alone could make a complete and satisfying novel.  The complexities of Eden are further explored, as well, and Frank grows much more as a character in this novel than in the previous one.  There are a few secondary characters who are introduced who are also so well-developed that you keep wanting to know more.  Also, the underworld of crime could be considered a character in and of itself.  It's described as if it is a living and breathing thing that looks out for itself and none of those actually involved.  Characterization in "Eden" is nothing short of superb.
It's difficult to say much about the plot without spoiling it because everything is connected, even if you don't realize it.  The pace is steady and makes it difficult to find a stopping point.  Make sure you have a few uninterrupted hours before you begin.  And the ending…. wow.  It more than delivers.  No plot failure here.
The only complaint I have is the jumping of points of view.  There is first person, third person limited past, and third person limited present.  All three of these are different characters.  While it worked in the chapters that were dedicated to one character, some chapters combined all three, and that was a bit of a struggle to get my brain to switch gears.
If you like crime thrillers and don't mind the blood and gore, I highly recommend "Eden".  Please note that this is most definite NOT a young adult book.  On occasion I review adult novels, and this is one of those times.
This review is based upon a complimentary copy provided by the publisher in exchange for an honest review.
Content Warning:
I normally don't give content warnings for adult books, but I do feel compelled to warn that there is some animal abuse and racial slurs in "Eden".  They are part of the plot and not gratuitous, but please keep this in mind if you are triggered by those things.