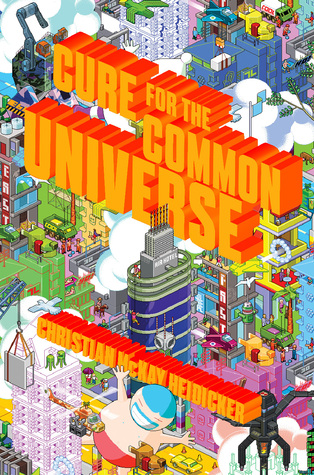 Cure for the Common Universe
Simon & Schuster Books for Young Readers
June 14, 2016
Hardcover
320

Prepare to be cured by this quirky and hilarious debut novel about a sixteen-year-old loner who is sent to rehab for video game addiction—perfect for fans of Ned Vizzini and Jesse Andrews.
Sixteen-year-old Jaxon is being committed to video game rehab…ten minutes after meeting a girl. A living, breathing girl named Serena, who not only laughed at his jokes but actually kinda sorta seemed excited when she agreed to go out with him.
Jaxon's first date. Ever.
In rehab, Jaxon can't blast his way through galaxies to reach her. He can't slash through armies to kiss her sweet lips. Instead, he has four days to earn one million points by learning real-life skills. And he'll do whatever it takes—lie, cheat, steal, even learn how to cross-stitch—in order to make it to his date.
If all else fails, Jaxon will have to bare his soul to the other teens in treatment, confront his mother's absence, and maybe admit that it's more than video games that stand in the way of a real connection.
From a bright new voice in young adult literature comes the story of a young man with a serious case of arrested development—and carpal tunnel syndrome—who is about to discover what real life is all about.
Review:
Rounded Up From 3 1/2 Stars
"Cure for the Common Universe" is a fun and fast-paced read with a premise and setting any gamer is bound to love.
Set in a video game rehab facility which uses a game system of points to allow the patients to be released, it almost seems like a fun place to be.  That is unless you will miss your video games too much.  I'm not going to lie, if I had to give up the gigantic time suck of Animal Crossing it would not be pretty.  Someone has to weed my town, and it won't be those lazy villagers.
Jaxon is the main character, and he is the perfect example of an unreliable narrator.  It takes a couple of chapters to figure him out, but once you do it's fun to revel in his delusions.  The side characters are all quirky and interesting, while also having some depth that partially explains why they are addicts in the first place. And yes, they really are addicted to gaming.  The nature of addiction is explored in an accessible way without feeling preachy, and I think that will resonate with a lot of young adult readers.
The plot is fast-paced and quite an easy read.  The only reason I knocked off stars was the ending.  It sort of jumped off of the track.  However, it wasn't so far off that it made the rest of the book unenjoyable.
"Cure for the Common Universe" is a particularly good book for reluctant readers who enjoy gaming.  It's also great for someone looking for a funny and light read that still packs a bit of a punch.
This review is based upon a complimentary copy provided by the publisher in exchange for an honest review.
Content Warning:
Language, Brief Sexual Situations, Violence, Underage Drug and Alcohol Use