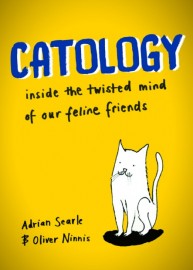 Catology
Freight Books
October 31, 2016
Hardcover
128

Just what is your cat thinking? As it gazes up at you, are those eyes filled with love and admiration or spite and scorn? From the author of the award-winning 101 Uses of a Dead Kindle and If Dogs Could Swear comes a hilarious insight into the twisted, venal, self-serving psychology of our cutest four-legged sociopaths. Catology is a psychiatrist's view of your moggy, a brilliant, unforgettable and twisted look at the many bizarre, ridiculous and instantly recognisable scenarios in which cat owners find their beloved pets every day.
Review:
"Catology" made me laugh so hard I kept snorting.  It is a perfectly dark view of cat psychology told through cartoons.  It would make the perfect holiday gift for a friend or loved one who loves cats but recognizes that they can be devious and cunning creatures.  It is definitely an adult book, so keep that in mind.
Highly recommended for a laugh!
This unbiased review is based upon a complimentary copy provided by the publisher.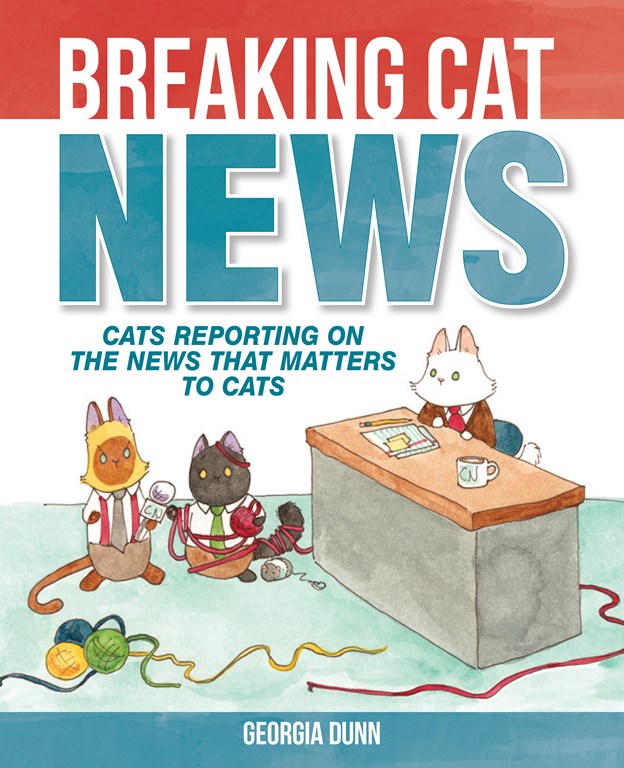 Breaking Cat News
Andrews McMeel Publishing
May 10, 2016
Paperback
128

This just in: Three adorable house cats are reporting the most hilarious breaking news! Based on author/illustrator Georgia Dunn's real life pets, Elvis, Lupin, and Puck strap on neckties and pick up microphones to provide the most up-to-date relevant news stories (at least according to them).
Cats reporting on the news that matters to cats with stories such as The Vacuum Cleaner Is Back!, The Woman Is Cooking Bacon!, and The Ceiling Cats Are Everywhere Tonight! Cynical, no nonsense Elvis and shy, sweet, sensitive Puck are the reporter kitties in the field, while the adventurous jokester Lupin serves as anchor cat. Together they break headlines on the food bowl, new plants, mysterious red dots, strange cats in the yard, and all the daily happenings in their home.
Review:
Oh how I loved "Breaking Cat News."  I still have a smile on my face just thinking about it and am going to buy a physical copy the next time I am in a bookstore.  Any cat lover is sure to see their own cats in the news team, and it will make a perfect gift for anyone in your life that needs some cheering up.  It's also appropriate for children and is sure to get everyone laughing together.  Highly recommended!
This review is based upon a complimentary copy provided by the publisher in exchange for an honest review.
A Letter to My Cat
Literary Collections
Crown Archetype
2014-10-28
176

A follow-up to A Letter to My Dog collects celebrity letters of love, whimsy and gratitude to their feline companions juxtaposed against four-color kitty portraits, in a volume that includes contributions by Dr. Oz, Mariel Hemingway and Jackson Galaxy. Illustrations.
Review:
This review is based on a complimentary copy provided by the publisher in exchange for an honest review.
"A Letter to My Cat" is filled with love letters to, well, cats.  They range from hilarious to heartbreaking, and I was going from laughing to crying every few minutes.  The letters are written from a wide range of people owned by cats, from celebrities to children to a soldier who went to great lengths to bring his feline companion home.  All are lovely and reveal the unique quirks and bonds that make cats so indispensable to those who love them.
Additionally, the photography is absolutely gorgeous and captures the personality of each subject.  As anyone who has tried to photograph a cat knows, it is difficult to capture much more than a blur or a squinty-eyed look of derision.  These photographs are true works of art worthy of being framed.
In short, cats cats cats cats cats.  What's not to love?  I recommend this book to all but those who believe cats are the portent of evil belonging only to witches, because they are surely the only ones who will not love it.
Content Warning:
Excessive Feels