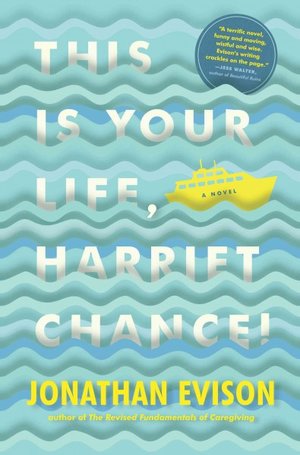 This is Your Life, Harriet Chance!
Algonquin Books
September 8, 2015
Hardcover
304

With Bernard, her husband of fifty-five years, now in the grave, seventy-eight-year-old Harriet Chance impulsively sets sail on an ill-conceived Alaskan cruise that her late husband had planned. But what she hoped would be a voyage leading to a new lease on life becomes a surprising and revelatory journey into Harriet's past.
There, amid the overwhelming buffets and the incessant lounge singers, between the imagined appearances of her late husband and the very real arrival of her estranged daughter midway through the cruise, Harriet is forced to take a long look back, confronting the truth about pivotal events that changed the course of her life. And in the process she discovers that she's been living the better part of that life under entirely false assumptions.
In This Is Your Life, Harriet Chance! Jonathan Evison has crafted a bighearted novel with an endearing heroine at the helm. Through Harriet, he paints a bittersweet portrait of a postmodern everywoman, her story told with great warmth, humanity, and humor. Part dysfunctional love story, part poignant exploration of the mother-daughter relationship, nothing is what it seems in this tale of acceptance, reexamination, and forgiveness.
Review:
"This is Your Life, Harriet Chance" is unlike any other book I have read.  It combines a series of past events presented in the style of the game show "This is Your Life", the ghost of a recently deceased husband, and a family whose dirty laundry is slowly being hung out for all to see.
This is definitely a meandering book and will best be appreciated by those who enjoy simply being along for the ride.  It jumps all over between past and present.  Even the flashbacks are in no particular order.  The nature of Harriet's past ranges from pure to scandalous, with everything in-between.  In short, it's a life that isn't sugar-coated when looked back upon.  The current family issues that are mixed in do a wonderful job of showing how our past can help shape our futures while not necessarily defining them.  I can't help but wonder what I would see if I looked back on my life in the same manner.
Overall, "This is Your Life, Harriet Chance!" is an enjoyable read for someone who enjoys the slice-of-life writing style.
This review is based upon a complimentary copy provided by the publisher in exchange for an honest review.
Content Warning:
As this is an adult book, there are no content warnings.