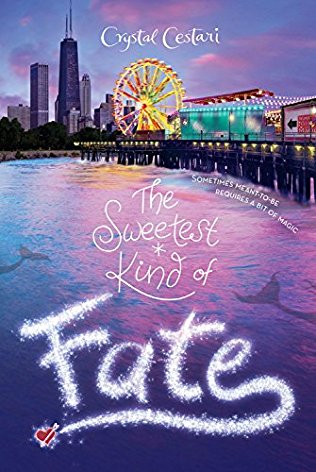 The Sweetest Kind of Fate
Windy City Magic, Book 2
Disney-Hyperion
March 6, 2018
Hardcover
320

GREAT. I've somehow found myself tangled up with a siren, a mermaid, and a homicidal wicked witch who once tried to strangle me to death. Way to go, Amber!
Amber Sand, legendary matchmaker, couldn't be more surprised when her archnemesis, Ivy, asks for her help. Ivy's sister, Iris, is getting married, and Ivy wants to prove her sister is making a huge mistake. But as Amber looks into Iris's eyes, there doesn't seem to be a problem-Iris has clearly found her match.
It seems happily-ever-after is in the cards, but when Iris seeks out a dangerous, life-altering spell, it's up to Amber and Ivy to set aside their rivalry and save the day.
As Iris puts everything on the line for love, Amber continues to wrestle with her own romantic future. Her boyfriend, Charlie, is still destined for another, and no matter how hard she clings to him, fear over their inevitable breakup shakes her belief system to the core.
Because the Fates are never wrong-right?
Review:
"The Sweetest Kind of Fate" is a fun follow-up to the original "Windy City Magic." It is a quick and light read perfect for fans of magical realism.  While there are some intense scenes in terms of magical creatures, there are very few curse words or sexual situations of any kind, making it a good choice for younger readers of the ya genre.
This unbiased review is based upon a complimentary copy provided by the publisher.
Content Warning:
Mild Language, Mild Sexual Situations, Violence