Comments Off

on Secrets of Skin and Stone

,
Author: adultintheyasection
Categories: Contemporary, Reviews, Thriller

Tags: book, contemporary, fiction, review, secrets of skin and stone, southern, thriller, wendy laine, ya, young adult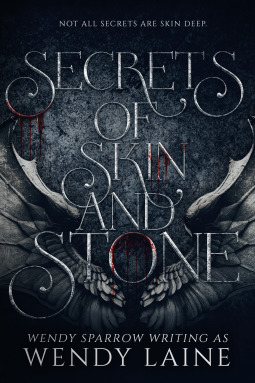 Secrets of Skin and Stone
Createspace Independent Publishing Platform
May 17, 2017
Paperback
290

Something is wrong in Hidden Creek. The sleepy Alabama town is more haunted than any place fiend hunter Grisham Caso has ever seen. Unearthed graves, curse bags, and spilled blood all point to an evil that could destroy his gargoyle birthright. The town isn't safe for anyone, and everyone says fiery Piper Devon knows why.
Piper wants to leave Hidden Creek behind. She's had enough of secrets—they hide in the shadows of her room and tell her terrible things are coming. Too-charming city boy Grisham might be her only chance to save herself.
To survive, Piper and Grisham have to shed their secrets and depend only on each other. But what lurks in Hidden Creek still might take everything away from them, including each other.
Review:
"Secrets of Skin and Stone" was the perfect palate cleanser and fun read after a series of lackluster novels that almost sent me into a reading slump.  I would describe it as a young adult "Southern Ghost Hunters."
It's a fun supernatural romance with witty dialogue and a plot that flows quickly. There are some scary parts, but they are evened out by the humor.  It's also original.  I know they exist in literature, but a gargoyle shapeshifter has never come across my reading material before.  One caveat:  There is an animal death at the very beginning.  If you can plow through that you'll be ok.  It isn't gratuitous and pretty much fuels the rest of the plot.
I recommend "Secrets of Skin and Stone" for anyone looking for a fun supernatural read.  I also really hope the author plans a sequel.
This unbiased review is based upon a complimentary copy provided by the publisher.
Content Warning:
Language, Sexual Situations, Violence, Animal Death