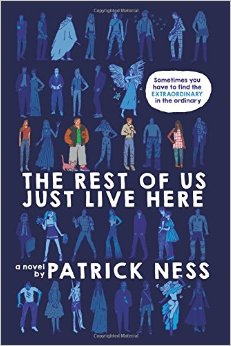 The Rest of Us Just Live Here
HarperTeen
October 6, 2015
336

ALA Best Fiction for Young Adults * Cooperative Children's Book Center CCBC Choice * Michael Printz Award shortlist * Six starred reviews * Kirkus Best Book of the Year * VOYA Perfect Ten * NYPL Top Ten Best Books of the Year for Teens * Chicago Public Library Best Teen Books of the Year * Publishers Marketplace Buzz Books * ABC Best Books for Children * Bank Street Best Books List
A new YA novel from novelist Patrick Ness, author of the Carnegie Medal- and Kate Greenaway Medal-winning A Monster Calls and the critically acclaimed Chaos Walking trilogy, The Rest of Us Just Live Here is a bold and irreverent novel that powerfully reminds us that there are many different types of remarkable.
What if you aren't the Chosen One? The one who's supposed to fight the zombies, or the soul-eating ghosts, or whatever the heck this new thing is, with the blue lights and the death?
What if you're like Mikey? Who just wants to graduate and go to prom and maybe finally work up the courage to ask Henna out before someone goes and blows up the high school. Again.
Because sometimes there are problems bigger than this week's end of the world, and sometimes you just have to find the extraordinary in your ordinary life.
Even if your best friend is worshipped by mountain lions.
Review:
"The Rest of Us Just Live Here" is one of the most unusual books I have ever read.
The beginning of every chapter tells what the "Indie Kids" are up to, which is the stuff typically found in young adult fiction that is not realistic.  There were so many lines centering around them that had me laughing I couldn't even begin to narrow it down to only one example.  The real story centers around a group of friends who are just living their normal lives on the outside, not really involved with what's going on.  None of them are "the chosen ones."
All of the characters are well-developed, including the secondary ones, and are going through the typical growing up issues all of us face at one time or another.  The group is diverse in almost every way imaginable, and that really adds another level of enjoyment to it all.  Most importantly, there are some very important messages hidden within the fun and entertainment.  I'll let you find those out for yourselves.
As an aside, there is a wonderful portrayal of OCD found in the main character, Mikey.  It isn't the main focus, but I'm sure many readers will relate.
I highly recommend "The Rest of Us Just Live Here" to any older young adult or adult who is looking for a book that is capable of having them shifting between laughter and tears.
Content Warnings:
Language, Sexual Situations, Violence, Underage Drinking, Discussion of Eating Disorders