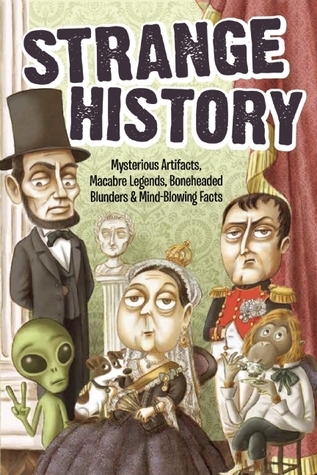 Strange History
Portable Press
June 14, 2016
Paperback
416

This exciting title from the folks at the Bathroom Readers' Institute contains the strangest short history articles from over 30 Bathroom Readers—along with 50 all-new pages. From the 20th century to the Old West, from the Age of Enlightenment to the Dark Ages, from ancient cultures all the way back to the dawn of time, Strange History is overflowing with mysterious artifacts, macabre legends, kooky inventions, reality-challenged rulers, boneheaded blunders, and mind-blowing facts. Read about…
*The curse of Macbeth
*Stupid history: Hollywood style
*The secret LSD experiments of the 1960s
*In search of the lost "Cloud People" of Peru
*The Swedish queen who declared war on fleas
*Unearthing the past with the Outhouse Detectives
*The Apollo astronaut who swears he saw a UFO
*How to brew a batch of 5,000-year-old beer
*The brutal bloodbaths at Rome's Coliseum
*Ghostly soup from ancient China
*The bathroom of the 1970s
And much, much more!
Review:
"Strange History" is a fun history book filled with facts and stories that will have you either laughing, horrified, or thankful you don't know what crazy stuff is going on right now behind-the-scenes.  All of the stories are short and can be read quickly.  It definitely makes history fun and accessible.  In fact, I recommend it for teachers or parents to get interesting anecdotes they can throw into relevant lessons to keep students engaged.
This review is based upon a complimentary copy provided by the publisher in exchange for an honest review.