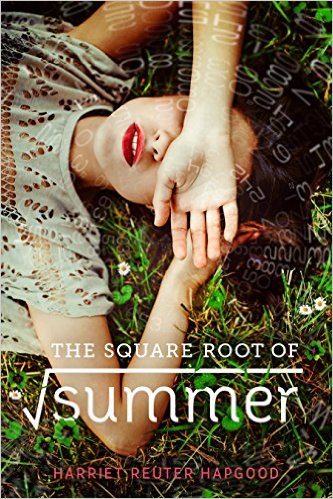 The Square Root of Summer
Roaring Brook Press
May 3, 2016
Hardcover
304

This is what it means to love someone. This is what it means to grieve someone. It's a little bit like a black hole. It's a little bit like infinity.
Gottie H. Oppenheimer is losing time. Literally. When the fabric of the universe around her seaside town begins to fray, she's hurtled through wormholes to her past:
To last summer, when her grandfather Grey died. To the afternoon she fell in love with Jason, who wouldn't even hold her hand at the funeral. To the day her best friend Thomas moved away and left her behind with a scar on her hand and a black hole in her memory.
Although Grey is still gone, Jason and Thomas are back, and Gottie's past, present, and future are about to collide―and someone's heart is about to be broken.
With time travel, quantum physics, and sweeping romance, The Square Root of Summer is an exponentially enthralling story about love, loss, and trying to figure it all out, from stunning debut YA voice, Harriet Reuter Hapgood.
Review:
Actual Rating: 3 1/2 Stars
"The Square Root of Summer" is the perfect example of why there needs to be a half star option for rating books.  It is definitely better than a three, but the one major flaw keeps it from being a four.
Gottie and her family are wonderful and quirky characters, especially her grandfather Grey.  I would love a book just focusing on him in all of his glory.  They provide the perfect cast of characters for the theme of heartbreak coming in all kinds of forms, and the only way to deal is to tackle them head-on.  Gottie is not the only one having problems with this, and it's interesting to see how everyone handles their losses.  I do have to say I think her friends and brother were more than a little hard on her, but that isn't unrealistic for teenagers experiencing all kinds of losses and changes.  This part of the story is five stars.
The problem is the physics aspect of the time travel thread.  I loved the time travel itself, but physics was never my strong suit, and even though the author did her best to make it make sense it ended up leaving my brain in a puddle.  Some parts were easy, and I did learn quite a few new things, but I believe the science was over-explained.  Being so lost made that part turn into an indecipherable mess by the end.
I still would recommend "The Square Root of Summer" to older young adults and adults.  It is worth it for the story of loss and the wonderful Grey.  I do think if you're inclined to math and science you will get more out of it than I did.
This review is based upon a complimentary copy provided by the publisher in exchange for an honest review.
Content Warning:
Language, Sexual Situations