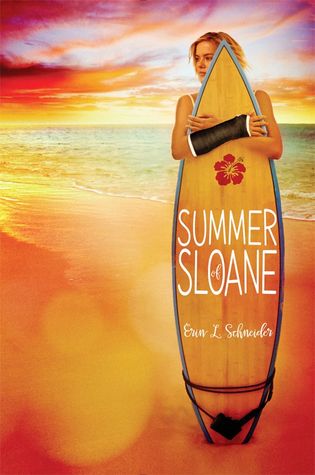 Summer of Sloane
Disney-Hyperion
May 3, 2016
Hardcover
304

Warm Hawaiian sun. Lazy beach days. Flirty texts with her boyfriend back in Seattle.
These are the things seventeen-year-old Sloane McIntyre pictured when she imagined the summer she'd be spending at her mom's home in Hawaii with her twin brother, Penn. Instead, after learning an unthinkable secret about her boyfriend, Tyler, and best friend, Mick, all she has is a fractured hand and a completely shattered heart.
Once she arrives in Honolulu, though, Sloane hopes that Hawaii might just be the escape she needs. With beach bonfires, old friends, exotic food, and the wonders of a waterproof cast, there's no reason Sloane shouldn't enjoy her summer. And when she meets Finn McAllister, the handsome son of a hotel magnate who doesn't always play by the rules, she knows he's the perfect distraction from everything that's so wrong back home.
But it turns out a measly ocean isn't nearly enough to stop all the emails, texts, and voicemails from her ex-boyfriend and ex-best friend, desperate to explain away their betrayal. And as her casual connection with Finn grows deeper, Sloane's carefree summer might not be as easy to come by as she'd hoped. Weighing years of history with Mick and Tyler against their deception, and the delicate possibility of new love, Sloane must decide when to forgive, and when to live for herself.
Review:
"Summer of Sloane" is the perfect choice for those looking for a beach read that is fun with a side of seriousness.
Sloane is a character put into a very difficult situation through no fault of her own, and the way she works through it feels very natural and realistic.  She's someone who is easy to like, something that is not always easily found in young adult romances.  All of the supporting characters added to the story and were well-developed.  Most are the sorts of friends anyone would want to have.  You'll know the ones you definitely do not want when you read it.
I loved the pacing and the writing.  It flowed steadily and the narration really sucked me into Sloane's world.  Not an easy feat since I have never been to Hawaii and probably never will get to go.  I felt like I was sitting around a bonfire with my friends a good amount of the time.  None of the conversation felt stilted or forced, and the writer gave each character a unique voice.  There are also some very important life lessons thrown in that don't seem at all preachy.  It strikes a nice balance.
"Summer of Sloane" is a good book for anyone looking for a teen romance with a little bite.  It's also a cheap summer getaway to paradise.
This review is based upon a complimentary copy provided by the publisher in exchange for an honest review.
Content Warning:
Language, Sexual Situations, Violence, Underage Drinking