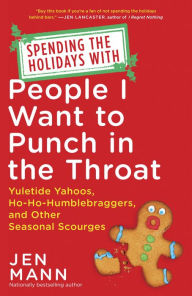 Spending the Holidays with People I Want to Punch in the Throat
Ballantine Books
October 13, 2015
Hardcover
224

For fans of Laurie Notaro and Jenny Lawson comes an uproarious and oddly endearing essay collection for anyone trying to survive the holidays in one piece.
When it comes to time-honored holiday traditions, Jen Mann pulls no punches
In this hilariously irreverent collection of essays, Jen Mann, nationally bestselling author of People I Want to Punch in the Throat, turns her mordant wit on the holidays. On Mann's naughty list: mothers who go way overboard with their Elf on the Shelf, overzealous carolers who can't take a hint, and people who write their Christmas cards in the third person ("Joyce is enjoying Bunko. Yeah, Joyce, we know you wrote this letter."). And on her nice list . . . well, she's working on that one. Here, no celebration is off-limits. The essays include:
• You Can Keep Your Cookies, I'm Just Here for the Booze
• Nice Halloween Costume. Was Skank Sold Out?
• Why You Won't Be Invited to Our Chinese New Year Party
From hosting an ill-fated Chinese New Year party, to receiving horrible gifts from her husband on Mother's Day, to reluctantly telling her son the truth about the Easter Bunny, Mann knows the challenge of navigating the holidays while keeping her sanity intact. And even if she can't get out of attending another Christmas cookie exchange, at least she can try again next year.
Review:
"Spending the Holidays with People I Want to Punch in the Throat" is a memoir in essays about Christmas and other holidays.  It will make you laugh, cry, cringe, feel sorry for the author, and ultimately, make you feel nostalgia.
Most of the stories had me actually laughing out loud.  Some of them made me snort.  Quite a few of them left me wondering if we may be related.  The point is: We have all been in her shoes, and we have also all been in the shoes of one of the other poor souls.  No holiday is perfect, but it's the funny stories of things gone that leave us longing for more.  It's this very fact that makes the book much more than a collection of funny stories.  It has heart, and it is bound to touch the hearts of everyone with a fondness for holidays and families, in spite of all of the hassle they bring.
"Spending the Holidays with People I Want to Punch in the Throat" is well-written and a quick read.  Sitting down with it will be a perfect break from the upcoming holiday rush.  Also, it will make a great not-so-subtle gift for all of the "holiday overachievers" in your life.  (Watch me get three copies.)
This review is based upon a complimentary copy provided by the author in exchange for an honest review.