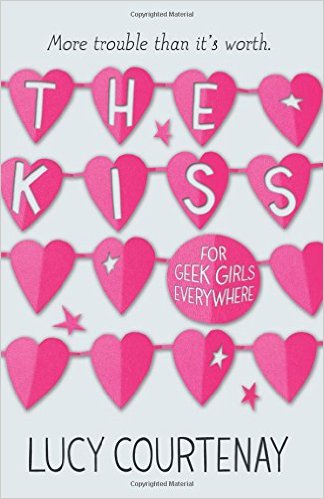 The Kiss
Hatchette Children's
July 2, 2015
352

'Aphrodite kissed a mortal once by the light of this moon, many thousands of years ago. It drove him crazy. The next person that he kissed - boum. The craziness travelled like this from person to person. It travelled through time. Everywhere - boum! Tu comprends?'
'Where did it end up?' I whisper. His lips are on my cheek now.
'It ended with me. And now I am going to pass it to you. You will like that, mermaid?'
Imagine the perfect kiss. A legendary kiss that makes people crazy with love. Imagine a summer's night, on a moonlit beach in the South of France, as French boy Laurent kisses 16-year-old Delilah after the best chat-up line she's ever heard.
BOOM!
Delilah is pretty sure the Kiss is fiction, despite her head-spinning holiday fling. But with all the sudden crushes, break-ups and melt-downs happening back at home, the Kiss starts looking a little too real for comfort. If only Delilah could keep track of where it's gone ...
Who knew one kiss could cause this much trouble?
A hilarious rom-com that will delight Geek Girls everywhere!
Review:
I'll get this out of the way at the beginning: "The Kiss" is filled with many of the bad boy romance tropes and instalove.  However, it is still a fun and cute read.
When I first started it, I was absolutely positive that I would find a way to jump through the pages and strangle Delilah, the main character.  At the beginning she is judgy and full of herself; not at all concerned with others unless it is in regards to how it affects her.  Also, she is a mega control freak.  That being said, stick with it.  The problems provide an excellent opportunity for growth, and the author sees that opportunity through.  The other characters are endearing in their own way, and I particularly liked Jem.  He is given an interesting backstory that isn't completely predictable.
I recommend "The Kiss" for those looking for a quick and light read. The plot can be predictable, but as I said above, it is fun.  It's the sort of thing you can get lost in for a few hours.  In fact, it's the perfect beach read or palette cleanser.
This review is based upon a complimentary copy provided by the publisher in exchange for an honest review.
Content Warning:
Language, Sexual Situations, Drug and Alcohol Use