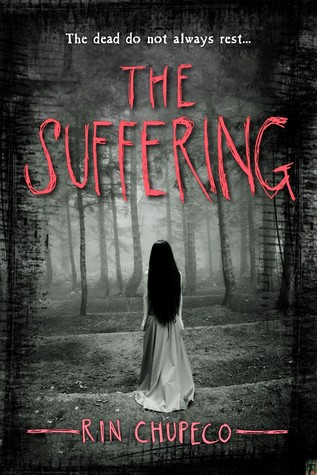 The Suffering
The Girl from the Well, Book 2
Horror
Sourcebooks Fire
September 8, 2015
Hardcover
320

Breathtaking and haunting, Rin Chupeco's second novel is a chilling companion to her debut, The Girl from the Well.
The darkness will find you.
Seventeen-year-old Tark knows what it is to be powerless. But Okiku changed that. A restless spirit who ended life as a victim and started death as an avenger, she's groomed Tark to destroy the wicked. But when darkness pulls them deep into Aokigahara, known as Japan's suicide forest, Okiku's justice becomes blurred, and Tark is the one who will pay the price...
Review:
"The Suffering" is the perfect book for any young adult (or adult, for the matter) fan of horror, suspense, or Japanese folklore.  While it is a companion to "The Girl from the Well", please know that it can be read as a standalone.  All that you need to know is covered throughout the book in a way that doesn't interrupt the flow.
I absolutely love the character development of Tark and the water ghost, Okiku.   I don't know how the author, Rin Chupeco, does it, but somehow a ghost of a girl who died a couple hundred years ago is made relatable.  Their relationship even manages to feel natural in spite of obvious challenges.  I don't want to give away too much, but I will say that the other supernatural characters introduced are no less intriguing.
The plot unfolds perfectly.  There is a good balance between what feels like nonstop action in a story that is not rushed.  All of the clues to the ending are dropped within the chapters leading up to the final revelation, and yet the ending still manages to be a surprise.  Think "The Sixth Sense".  I was torn between banging my head at missing the twist and sheer admiration for the author managing to pull it off.
I cannot recommend this enough for reluctant readers around 8th grade and up who like action and don't mind a little gore.  It reads easily and sucks the reader in immediately.  There is also very little in the way of romance (a couple of kisses), so for those who immediately shirk away from books that contain it this is perfect.  Lots of action completes the reluctant reader test.
Also, I am delighted to say there is diversity in the main character of Tark, who is a Japanese-American.  Almost all of the secondary characters are Japanese, as well.  We need more diverse books!  It's always a pleasure to find a new one to add to that shelf.
In short, "The Suffering" is a satisfying horror novel that is creepy, causes jumps, and is also just plain fun.  Highly recommended!
This review is based upon a complimentary copy provided by the publisher in exchange for an honest review.
Content Warning:
Extremely Mild Sexual Situations, Language, Mentions of Abuse, Brief Mentions of Rape, Violence, Disturbing Imagery