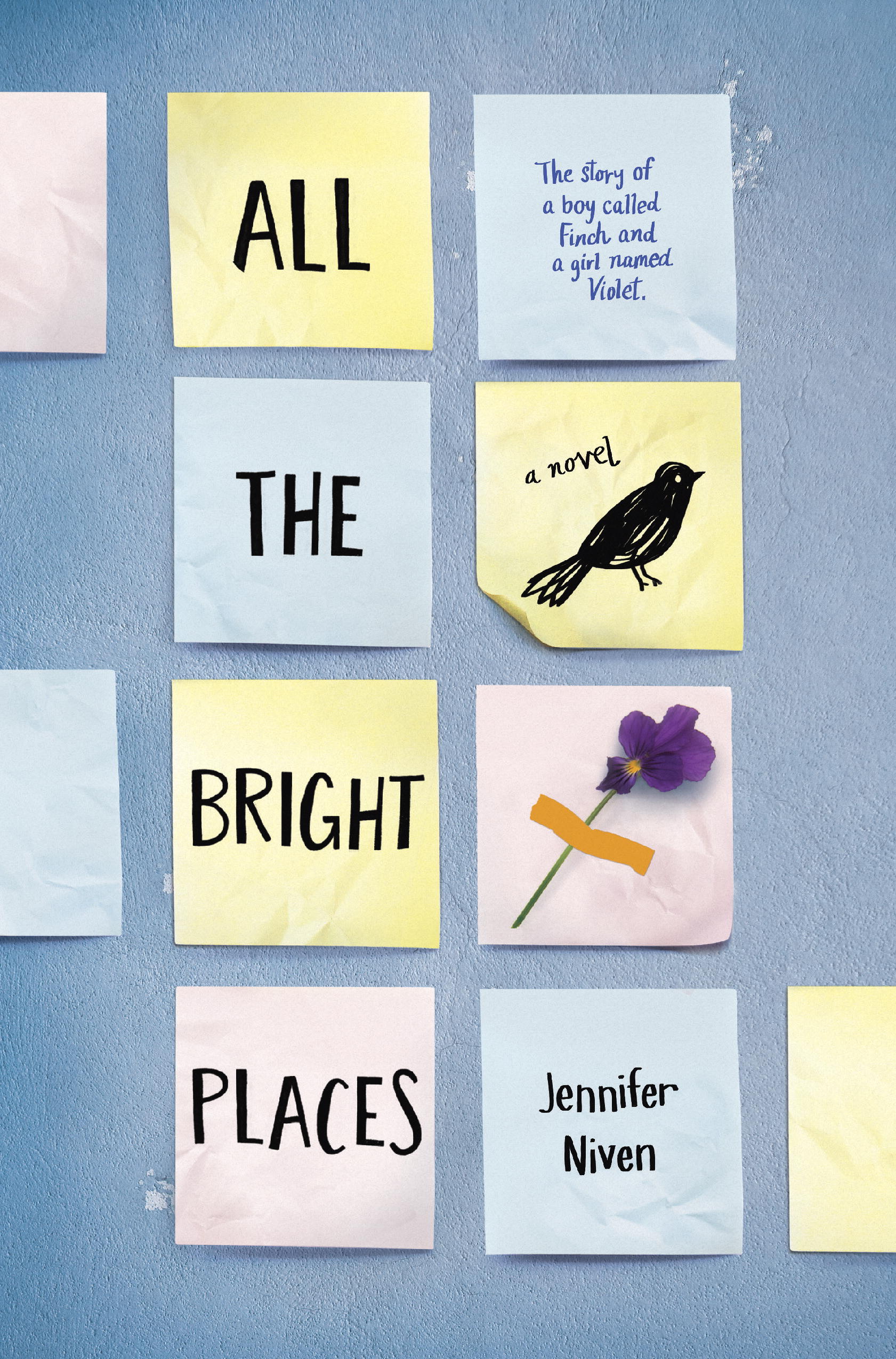 All the Bright Places
Knopf Books for Young Readers
January 6, 2015
Hardcover
400

Theodore Finch is fascinated by death, and he constantly thinks of ways he might kill himself. But each time, something good, no matter how small, stops him.
Violet Markey lives for the future, counting the days until graduation, when she can escape her Indiana town and her aching grief in the wake of her sister's recent death.
When Finch and Violet meet on the ledge of the bell tower at school, it's unclear who saves whom. And when they pair up on a project to discover the "natural wonders" of their state, both Finch and Violet make more important discoveries: It's only with Violet that Finch can be himself—a weird, funny, live-out-loud guy who's not such a freak after all. And it's only with Finch that Violet can forget to count away the days and start living them. But as Violet's world grows, Finch's begins to shrink.
Review:
I can summarize my thoughts on "All the Bright Places" by saying that this is a book that anyone in the upper middle grades and up absolutely needs to read, including adults.  It may be one of the most important books written in this decade, and I will be extremely disappointed if I don't see it start popping up on school reading lists within a year.
The writing, complete with witty dialogue and two distinct narrator voices, is witty and solid.  You feel in the moment along with them, as opposed to reading about their own moment.  The characters are well-developed when they should be and not developed when they should not be.  That sentence makes little sense before you read it, but please keep it in mind when you get to the end.
Jennifer Niven is a brave woman with bold and risky decisions concerning the plot, and all of those decisions come together to form a masterpiece.  I can't say much else, because the journey is the most important part of "All the Bright Places", so I do not want to inadvertently spoil even the smallest of moments.  I will say that it is a story that will most likely stay with you for life.
In short, here are three things I know to be true about "All the Bright Places":
There will be a movie adaptation starring Elle Fanning.
There will be angry posts all over the internet no matter who is chosen to play Theodore Finch, because he will be so loved by fans, and that is the nature of fandom.
It will save lives.  Literally.
Five stars in this instance needs to be rounded up to 500.  Please read it, and please take its messages to heart.
This review is based upon a complimentary copy provided by the publisher in exchange for an honest review.
Content Warning:
Language, Violence, Sexual Situations, Talk of Suicide and Self-Harming