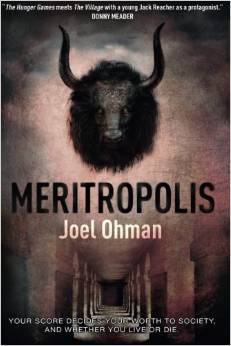 Meritropolis
Meritropolis, Book 1
Young Adult Fiction
CreateSpace Independent Publishing Platform
September 9, 2014
Paperback
226

The year is AE3, 3 years after the Event. Within the walls of Meritropolis, 50,000 inhabitants live in fear, ruled by the brutal System that assigns each citizen a merit score that dictates whether they live or die. Those with the highest scores thrive, while those with the lowest are subject to the most unforgiving punishment--to be thrust outside the city gates, thrown to the terrifying hybrid creatures that exist beyond.
Review:
This review is based on a complimentary copy provided in exchange for an honest review.
"Meritropolis", by Joel Ohman, was a wonderful surprise when it comes to the sometimes predictable world of young-adult dystopian literature.  The action is non-stop, and while the story has great depth and backstory, it is presented in a way which is not bogged down and unnecessarily complicated.  It's a very easy to understand premise.
What I found to be the major selling point is that it is a very attractive story for advanced middle reader males, a market which is surprisingly sparse.  As the primary purchaser of books for a twelve-year-old male bookworm, it becomes frustrating to find a story that's full of adventure, intelligent, and a bit light on the romance.  "Meritropolis" fits the bill perfectly, and I would like to thank Mr. Ohman personally for writing it.
I wish 4 1/2 stars were possible, because the only reason I did not give it the full five is because the paragraphs were long, with lots of description.  While not necessarily a bad thing, it may be off-putting for more reluctant readers.
I highly recommend "Meritropolis" for lovers of dystopian novels, both old and young alike.
Content Warning:
Violence, Adult Themes, Animal Death