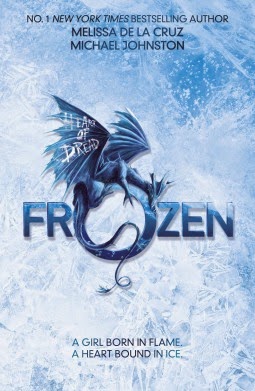 Frozen
Heart of Dread, Book 1
Juvenile Fiction
Putnam Publishing Group
2013-09-17
336

More than a century after a catastrophic disaster wiped out most of humanity and covered much of the earth with ice, fifteen-year-old Cass yields to the voice in her head urging her to embark on a dangerous journey across a poisoned sea to the mythical land, Blue.
Review:
This review is based on a complimentary copy provided by Hatchette Children's Books in exchange for an honest review.
When I began "Heart of Dread: Frozen", I thought I was going to be reading a somewhat typical dystopian novel.  Boy, was I ever wrong.  It is impossible to place it in one, or even two, categories.  Finally, I decided to go with dystopian, apocalyptic, and fantasy.  There is an even amount of all of them.
This novel is a wild ride right from the start, alternating between third person points of view focusing on two flawed, mysterious, and very different individuals. We have Wes, the mercenary, and Nat, the girl with a secret.  Their backstories are revealed very slowly, and combined with the action, it makes it difficult to put down.
If I describe any of the plot that is not already included in the synopsis above, I run the risk of spoiling a surprise, and that would take away from the fun. And if nothing else, this is one fun book.  Anything that could possibly be included in it is, and the ending was a cliffhanger that has me upset that I need to wait a few months for the next.
I normally try to avoid fandom-speak in my reviews, but my thoughts can be summed up by this:  "I didn't mean to ship it this hard."
Content Warning:
Violence, Animal Death, Some Sexual Talk